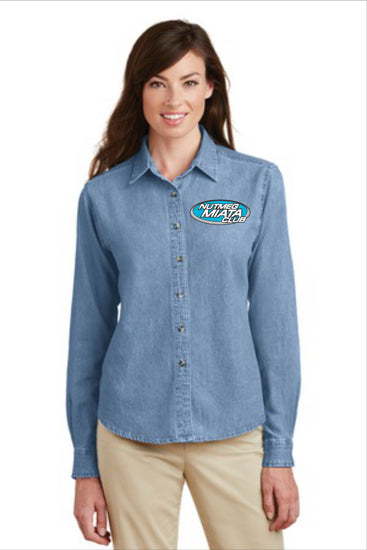 Nutmeg Miata Ladies Denim Longsleeve Shirt
With sturdy construction, a generous cut and soft garment washing, our Value Denim shirt won't stretch your budget.
6.5-ounce, 100% cotton
Double-needle stitching throughout
Traditional, relaxed look
Open collar
Horn-tone buttons
Button-through sleeve plackets
Adjustable cuffs
Tuck-in tail
Due to special finishing process, colors may vary.
Logo Embroidered on left chest, Name option available for Right Chest.
XS
S
M
L
XL
XXL
3XL
4XL
Size
2
4/6
8/10
12/14
16/18
20/22
24/26
28/30
Bust
32-34
35-36
37-38
39-41
42-44
45-47
48-51
52-55
Arm
30 - 30 3/4
30 3/4 - 31 1/2
31 1/2 - 32
32 - 32 1/2
32 1/2 - 33
33 - 33 3/8
33 3/8 - 33 3/4
33 3/4 - 34 1/2